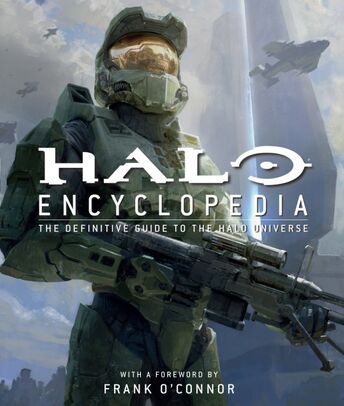 The Halo Encyclopedia is the official guide book as of 2009. It explains everything major in the Halo Universe. It has a Foreword from Frank O' Conner, leader of 343 Industries. An updated version is due for release in 2011 with the added info of Halo Reach and Halo 4.
Halo Encyclopedia of 2009

Author:

Tobias Buckell (Editor)

Publisher:

DK Publishing

Date Released:

October 11,2009 New version: September 19,2011

Length:

352 pages

Availability:

Hardback

Price:

The Following Prices Apply

US:

$40.00

Canada:

$46.00

UK:

$30.00
Official DK Summary
Edit
"This is a must-have guide to the Halo universe. Humanity teeters on the brink of extinction, as hostile forces and ancient mysteries threaten to snuff out our first fiery foray into the universe. Take a trip into the world of Halo and discover everything you ever wanted to know about the characters, weapons, vehicles, equipment and locations from Halo, Halo 2, Halo 3, Halo Wars and Halo 3: ODST. From the Colonial Administration Authority to the UNSC, you'll find an overview of Halo's human history and structure and gain insight into key organizations. Discover all about the Covenant - its history and religion - as well as the Forerunners, Flood and much more. It's what Halo fans have been waiting for."
--Dorling Kindersley
Foreword by Frank O' Conner
Introduction
1.Timeline
2.Humans
3.Spartans
4.The Covenant
5.The Flood
6.The Forerunners
7.The Human-Covenant War
8.Science and Technology
9.Transport
10.Locations
11.Weapons
The book as many mistakes. One of them being the story of Miranda's death. It mistakenly said she was killed by a Brute Honorguard. However, it is Truth who ACTUALLY kills miranda.
Another mistake is that it said the remainder of the once existing Unyielding Hierophant's Invasion Fleet attacks earth. This is not true, since it retreated back to High Charity and participated in the Second Battle of Earth, not the First.