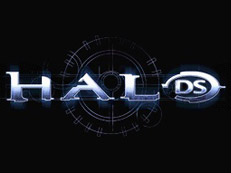 Halo DS was a Halo game planned to be released on Nintendo DS but it was cancelled since deals did not work out. It was playable before it was discontinued.
In Janurary, 2007 Matt Casamassina of IGN claimed he played a version of halo for Nintendo DS. On October 2, 2007 he demonstrated on camera and even posted on youtube in-game footage of the early development design of Halo DS. It showed available options that were going to be available in it including Dual Wielding and a new version of the Halo 2 map, Zanzibar.
Halo DS

Developers:

Bungie Studios

Publishers:

Bungie Studios

US Date Release:

N/A NONE

UK Date Release:

N/A NONE

Genre:

First Person Shooter

Lobbies:

N/A

ESRB Rating:

N/A

Platoform(s):

Nintendo DS

Money from Sales:

NONE
Bungie employees said later on that the Halo DS game was just a game they made because they were bored and they never intended to release it to the public.
It was officially decided by Bungie after the release of Halo 3: ODST that Halo DS was never going to be released.
Now that Bungie has sold Halo to 343 Industries and Microsoft corporation, 343 Industries may look at enchancing the game and release it under a new name since "Halo DS" is to plain and simple.
It was playable due to the fact that Bungie released it on Bungie.net and other sites. When they announced the discontinuation of it, they took it off the sites and deleted all source of info leading to it except on Wiki's such as Halo Nation, here and other Halo wiki's.
Here's the only video of Halo DS
Edit
thumb|left|300px|HALO DS MULTIPLAYER ON ZANZIBAR
Community content is available under
CC-BY-SA
unless otherwise noted.