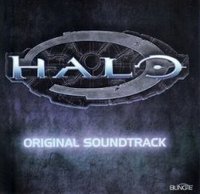 "Themes, moods and even the duration of these pieces will change and adapt with each player's Halo experience. I took the liberty of remixing and rearranging all the music in order to make listening to the Soundtrack more enjoyable."
--Martin O'Donnel
The Halo Combat Evolved Soundtrack is the soundtrack to the video game "Halo Combat Evolved" and remixed in "Halo Combat Evolved Anniversary." It was composed by Michael Salvatori and Martin O'Donnel.
2.The Truth and Reconciliation Suite
5.Perilous Journey
6. A Walk in the Woods
7. Ambient Wonder
8. The Gun Pointed At the Head of the Universe
9. Trace Amounts
10. Under Cover of Night
11. What Once Was Lost
12. Lament For Pvt.Jenkins
13. Devils...Monsters...
14. Covenant Dance
15. Alien Corridors
16. Rock Anthem For Saving the World
17. The Maw
18. Drumrun
19. On A Pale Horse
20. Perchance To Dream
21. Library Suite
22. The Long Run
23. Suite Autumn
24. Shadows
25. Dust and Echoes
26. Halo.
Easter Eggs, Sketches and Lost Tracks
Edit
The Siege of Madrigal (Easter Egg)
The Lost Muse (Not on OST)
In the Club (Not on OST)
Love and a Piano (Sketch)
Clap Your Hands, Say Eh (Seriously) (Sketch)
Familiar Themes (Sketch)
Knockin Beats (What) (Sketch)
Pomp, Circumstance (Sketch)
Were Gonna Watch Tron Tonight? (Sketch)
old_stuff (sketch)
Many pieces from this soundtrack was implemented into Halo 2, Halo 3 and CEA but was remixed.
One piece of music, heard on the level "Assault on the Control Room" can be heard but isn't in the soundtrack. It is called the Lost Muse, but fans call it the Lost Song.